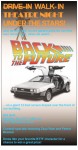 We here at the BEAT are big fans of
Alcove Cafe and its new sister bar, Big Bar
. But if you somehow haven't gotten a chance to visit the beautiful outdoor restaurant and enjoyed some of the new fancy concoctions they're putting together there, you've now got a pretty great excuse.
That would be Big Bar's first-ever outdoor movie screening, featuring none other than Marty McFly and the Delorean in
Back to the Future
. Yep, they'll be draping a huge 12-foot screen over the garden patio and letting everyone enjoy the outdoors with special cocktails on the menu. And if you come dressed up as your favorite character, there's a chance for a huge prize.
Summer's officially getting kicked off this weekend, so why not celebrate early with this fun outdoor screening? Show up early (there are no reservations being made for movie seating), and you can enjoy some happy hour specials too.
Walk-In Theatre Night Under the Stars with Back to the Future is happening tonight at 8pm at Big Bar, located at 1927 Hillhurst Ave. in Los Feliz.
--Chau Tu